Post filled under : Uncategorized
In no particular order, here is what we did at Pallavi and Prabhas's wedding
1. Consumed nearly 50 shots of vodka between a 14 member team in under 20 mins (more like, were made to consume :D)
2. Danced with them at the sangeet till 4:30 in the night/morning (this time, willingly)
3. Made 50 people do a synchronous jump into a swimming pool for one shot. Made them do it again
4. Got into arguments with Thai wildlife protection officers because they won't allow shoots in a protected forest area (even after three 'pretty please's )


5. Made friends, really genuine and good friends.
and … almost forgot … clicked some amazing pictures and took video!
The list goes on, you get the drift

We'll let the pictures speak the rest

PS: why is the blog called 'journey to destiny', that is because these two have a very interesting story … more on that later

Filled Under : Uncategorized
Here is a list of our favorite equipment to use for weddings
Common sense
Sony a7s cameras – gives us the ability to shoot what we can't see (true story!)
Sony FS700 camera – there is never a bad time to do slow motion (you'll find tons of it here https://vimeo.com/91395052
Carl Zeiss lenses
Motion control rigs – like this http://instagram.com/p/rZZ8PDLhyB/
Canon 5d mark 3s and canon L series lenses
For photography – Nikon 800 – because 36 Megapixel does matter (hint: large prints!)
Drones – Quadcopters and Octacopters – like this!
Go pros
Underwater gear
Tripod, monopods, mid day snacks, water bottles, sun screen – you get the idea! The list goes on
Filled Under : Uncategorized
Disha and Rushi, Krabi, 2014
There is nothing like finding the 'one' for yourself when you aren't even looking! Growing up, Disha and Rushi knew each other just enough to not care to know more

Years passed by until one fine day their mothers happened to bump into each other at a party (filmy!) and so began the "Lets get our kids married to each other" Season 1, which pretty soon became "How we fell head over heals" Season 2. Well, as someone said … 'it doesn't matter how you meet … its how you take it forward' and boy do these two did that in style!
In a wedding that spanned over three days, we could not have asked for a more beautiful setup (thanks to www.momente.in), a more enthusiastic family and above all a more loving couple! Here is reliving some of the memories! Do leave your comments (aka scooby snacks :D)
Filled Under : Uncategorized
Big, small love
Nope they are not dwarfs and no this is not been photoshopped (well :D). The technique is called brenizer effect, the result is called 'Big, small love'
see the 50 Megapixel version here http://tinyurl.com/n4orvgl
Filled Under : Uncategorized
Gate crashers
D+R, Krabi, 2014
So this is how most destination weddings go for us. Show up a day before, settle down, recce, couple shoot in the evening. Then shoot like mad men for next two/three/four days and maybe chill out/fix broken bones for a day after. Not this one! Disha and Rushi's 'wedding' was more of a five day couple shoot with wedding events thrown in between. To quote Disha from one of our conversations halfway during the wedding… "It's like me and him just gate crash these amazing events taking place every three hours … its so much fun!" Here is to a couple that chose not to be in the 'oh-i-m-the-bride-and-he-is-the groom' zone, to one big five day party that was and to all these 'lets-go-to-this-random-beach-and-shoot' sessions in between.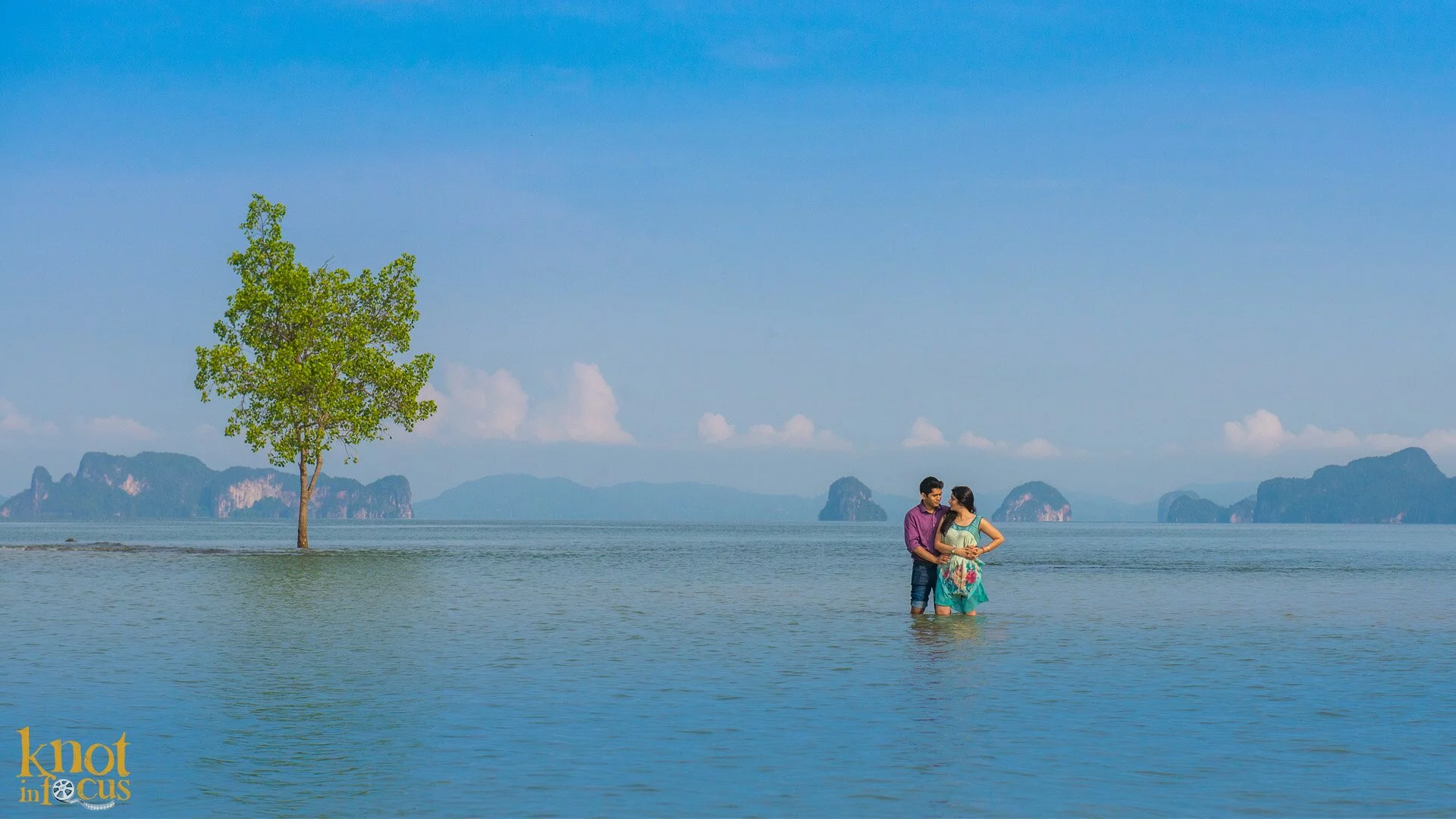 Filled Under : Uncategorized